Explore the future, makethe right choicesForreduce emissionsuntil 2050, and see the results inreal time!
L'atelier immersif pour explorer le futur et agir ensemble pour le climat !
9.5tCO2e/pers.
/year in 2022
2 tons of CO2e equivalent per year is thequantityof greenhouse gases emittedper personin a worldCO2 neutralwhich would respect the commitments ofthe Paris Agreement:
"keep the global temperature increase below 2°C" by 2050.
Thanks to a simulator, you will act on thegreenhouse gas emissionsuntil 2050.
The workshop takes into account theindividual, collective dimensionsand the key role of influence.
Have a systemic understanding of the issues
Learn, debate and express your opinion
That you arenoviceOrexpertin the field, thisserious games bring citizens together.
Scientific data from recognized organizations (Ademe, Insee, Negawatt, etc.)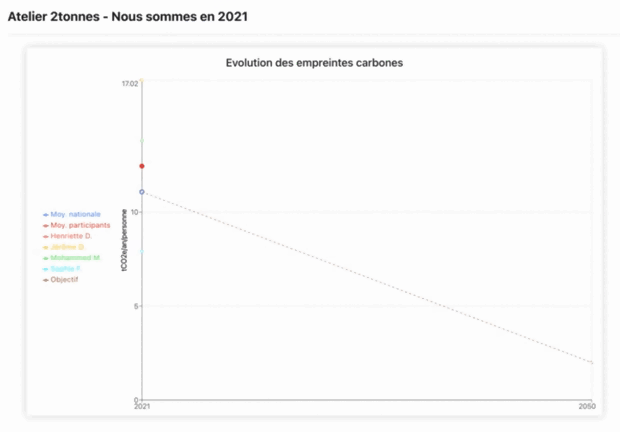 Scenarios allowing you to test multiple modes of governance to make your decisions!
Many individual and collective actions to move towards carbon neutrality
Your personalized carbon footprint
Michel Salem-Sermanet
Managing Director, Efficacity
"2tons combinesscientific rigor, aparticipatory pedagogical approach, and a large dose ofdynamismtransmitted by the animators: this shows to what extent themarketEastbigto reach thecarbon neutrality, but it ispossible, and that we canfind meaningandpleasurethrough asuch commitment. »
Emmanuel Cibla
Group Water & Energy Savings Program Director, Essilor
"The deployment of 2 tonnes within the Essilor International teams contributes to awareness , mobilization and real empowerment of employees. The approach positive, participatory, solution-oriented workshop allows everyone to understand their carbon footprint and concrete ways to reduce it to contribute to the goal of carbon neutrality by 2050. The workshop also helped to generate an exponential internal dynamic, arousing the enthusiasm of new participants and departments, creating links between international teams and receiving the good report of the management teams. This dynamic is also supported by a growing number of leaders and by the constitution of an internal community , which activates exchanges, debates, and learning on the climate , of which a growing proportion of employees are concerned. These leaders are gradually becoming enlightened ambassadors of the climate issue , internally and externally, as well as catalysts for initiatives, thus helping to make Essilor a learning and active organization . "
​