Explorez le futur, faites les bons choix pour réduire les émissions jusqu'en 2050, et voyez les résultats en temps réel !
9,5tCO2e/pers.
/an en 2022
2tonnes équivalent CO2e par an, c'est la quantité de gaz à effet de serre émise par personne dans un monde neutre en CO2 qui respecterait les engagements de l'Accord de Paris:
"maintenir l'augmentation de la température mondiale à un niveau inférieur à 2°C" d'ici à 2050.
Limiter le réchauffement climatique
Grâce à un simulateur, vous agirez sur les émissions de gaz à effet de serre jusqu'en 2050.
L'atelier prend en compte les dimensions individuelles, collectives et le rôle clé de l'influence.
Avoir une compréhension systémique des enjeux
Apprendre, débattre et exprimer son opinion
Que vous soyez novice ou expert dans le domaine, ce serious game rassemble les citoyens.
Des données scientifiques issues d'organismes reconnus (Ademe, Insee, Negawatt...)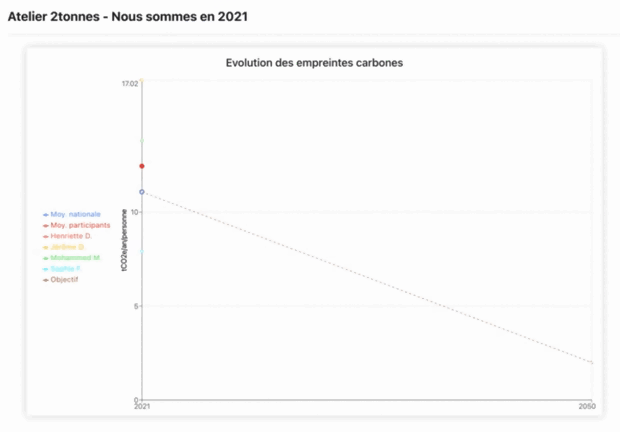 Des mises en situations permettant de tester des modes de gouvernance multiples pour prendre vos décisions!
De nombreuses actions individuelles et collectives pour tendre vers la neutralité carbone
Votre empreinte carbone personnalisée
Je teste mes connaissances!
Michel Salem-Sermanet
Managing Director, Efficacity
"2tonnes allie rigueur scientifique, une approche pédagogique participative, et une grande dose de dynamisme transmise par les animateurs : cela montre à quel point la marche est grande pour atteindre la neutralité carbone, mais que c'est possible, et que nous pouvons retrouver du sens et du plaisir au travers d'un tel engagement. »
Emmanuel Cibla
Group Water & Energy Savings Program Director, Essilor
"The deployment of 2 tonnes within the Essilor International teams contributes to awareness , mobilization and real empowerment of employees. The approach positive, participatory, solution-oriented workshop allows everyone to understand their carbon footprint and concrete ways to reduce it to contribute to the goal of carbon neutrality by 2050. The workshop also helped to generate an exponential internal dynamic, arousing the enthusiasm of new participants and departments, creating links between international teams and receiving the good report of the management teams. This dynamic is also supported by a growing number of leaders and by the constitution of an internal community , which activates exchanges, debates, and learning on the climate , of which a growing proportion of employees are concerned. These leaders are gradually becoming enlightened ambassadors of the climate issue , internally and externally, as well as catalysts for initiatives, thus helping to make Essilor a learning and active organization . "
​