2tonnes, the immersive workshop to explore the future and act together for climate!
In 3 hours and in teams, discover the individual and collective levers of the transition to a low-carbon society, project yourself to 2050 and identify the role you wish to play in this transition!
* Companies, Education , Public Authorities, Associations...
9.5tCO2e/pers.
/year in 2022
2 tons of CO2e equivalent per year is thequantityof greenhouse gases emittedper personin a worldCO2 neutralwhich would respect the commitments ofthe Paris Agreement:
"keep the global temperature increase below 2°C" by 2050.
Consuming locally or driving an electric car?
Deploy methanation or wind turbines?
Raising awareness or lobbying for the Climate?
Thanks to a simulator, you will act on thegreenhouse gas emissionsuntil 2050.
The workshop takes into account theindividual, collective dimensionsand the key role of influence.
Have a systemic understanding of the issues
Learn, debate and express your opinion
That you arenoviceOrexpertin the field, thisserious games bring citizens together.
During the workshop you will find...
Many individual and collective actions to move towards carbon neutrality
Scientific data from recognized organizations (Ademe, Insee, Negawatt, etc.)
Your personalized carbon footprint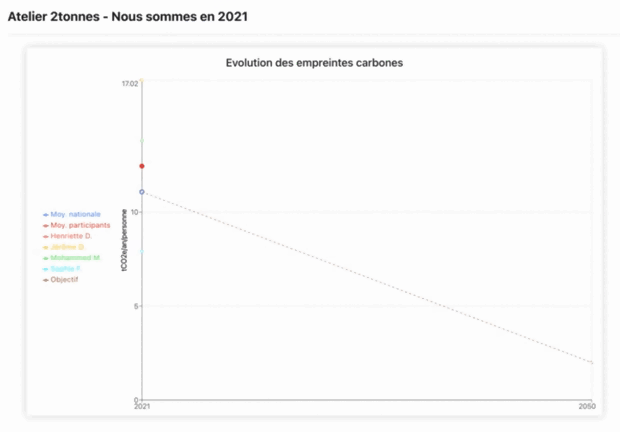 Scenarios allowing you to test multiple modes of governance to make your decisions!
How is a workshop organised?
5 to 10 minutes to carry out your individual carbon footprint upstream
Presentation of the causes and consequences of climate change and the climate action framework; introduction to carbon accounting
8 rounds of individual and collective action alternating to simulate the evolution of emissions until 2050
Interpretation of results, key lessons, brainstorms to invent new actions, and inspiring conclusion.
Participants have access to data after the workshop and take action commitments to become actors of the transition!