​
"But what can be done to reduce it?
How to act effectively for the climate? "
Which individual actions to prioritize?
​
Buy local or use an electric car?
What collective actions to invest in?
Deploy anaerobic digestion or wind turbines?
How to influence the debates and affect the others?
Raising awareness or acting for the Climate?
2tons,

this is the workshop that allows you to answer them! ✌️
The 2tonne workshop offers participantsexplore the future as a teamand to try to limit climate change by reaching these famous 2 tons per year and per person, byat 2050.
​
To allow a systemic understanding of the issues, the workshop takes into account the dimensionsindividual and collectiveof the subject, without forgetting therole of influence, a key issue in the transformation of society.
​
Aimed at both novices and experts on the subject of climate change, it is also a realserious games, designed to bring together anddebate together, and that everyone can have fun and express their opinion.
Have you always dreamed of putting yourself in the shoes of a Minister, or talking about the climate with Donald Trump?

Get in the game!
Average emissions per French (tCO2e / pers. / Year)
2 tonnes of CO2e equivalent per year is the amount of greenhouse gases emitted per person in a CO2 neutral world.
​
It is also the objective to be reached by 2050 in order to respect the commitments of the Paris Agreement : to keep the increase in global temperature at a level below 2 degrees.
​
Today, on average, each French person emits 9,5 tCO2e / year .
2tonnes gives you the tools to take action!




Explore the future, make the right choices to reduce emissions until 2050, and see the results in real time!
Multiple individual and collective choices of actions to be arbitrated in order to move towards carbon neutrality
Based on scientific data from recognized organizations (Ademe, Insee, Negawatt, etc.)
Create your own carbon footprint and work with your own data!
Become a public and private decision-maker and test multiple methods of governance in order to make the right decisions!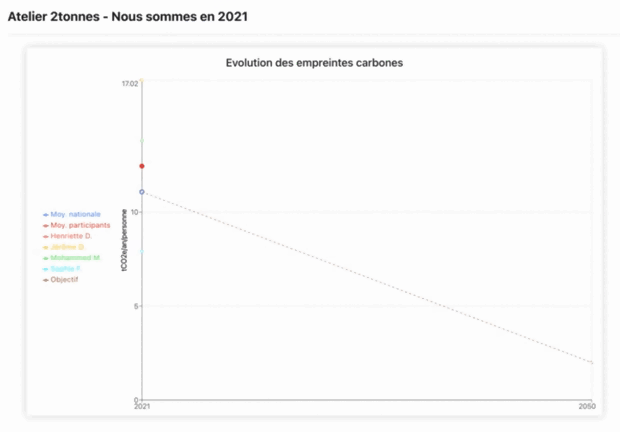 Organization of a workshop
No prerequisite for the participants, the workshop is intended as much for the "novices" as for the experts of the subject!
6 to 15 participants per
group
In person
or distance
1 animator-facilitator and an expert
FORMAT

5-10 minutes to carry out your individual carbon footprint upstream
Introduction

​​
Presentation of the causes and consequences of climate change and the framework for climate action; introduction to carbon accounting
​​
​
Simulation

8 rounds of invidivual and collective action in order to simulate the evolution of emissions until 2050.
Debrief

Discussing the results, key findings, brainstorming, coming up with new activities and an inspiring conclusion.
Stock

​
Participants have access to their data after the workshop to make commitments and to become actors of the transition!
​​
​
An interactive and immersive experience thanks to a web platform and an innovative educational model.
Explore, test, visualize and learn by doing!
Choose the actions that are most relevant to you, at individual and national level, and find out what impact they have ( or not)
Progressively build your low-carbon transition scenario until 2050 using a round-based system: each round represents a few years!
Learn from the experience and explore the data with the facilitator to discover the tools for a successful low-carbon transition!
Michel Salem-Sermanet
Managing Director, Efficacity
Stanislas Guerini, Minister of Transformation and Public Service
​
"The 2 ton workshopis a workshop that really impressed me. It shows us that even if the climate goals are ambitious, it is still possible to achieve them.
One of the main lessons of the workshop for me was to understand that action against climate change is not only a matter of forced choices: we have many options before us and we must, collectively, decide which type of low-carbon society we want to create. »
​
"The deployment of 2 tonnes within the Essilor International teams contributes to awareness , mobilization and real empowerment of employees. The approach positive, participatory, solution-oriented workshop allows everyone to understand their carbon footprint and concrete ways to reduce it to contribute to the goal of carbon neutrality by 2050. The workshop also helped to generate an exponential internal dynamic, arousing the enthusiasm of new participants and departments, creating links between international teams and receiving the good report of the management teams. This dynamic is also supported by a growing number of leaders and by the constitution of an internal community , which activates exchanges, debates, and learning on the climate , of which a growing proportion of employees are concerned. These leaders are gradually becoming enlightened ambassadors of the climate issue , internally and externally, as well as catalysts for initiatives, thus helping to make Essilor a learning and active organization . "
​